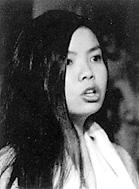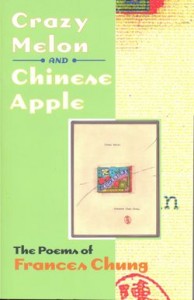 Queens Poet Laureate Paolo Javier attended both our premier at MoMA and our screening at the Brecht Forum.    From the first moment that he saw our film, he noted an artistic connection to Chinatown poet Frances  Chung's book Crazy Melon and Chinese Apple.  I have now read the book and it absolutely amazing.  I am thrilled to have discovered such an evocative, visualy stunning expression of life in Chinatown.   (LS)
Here is a little sampling:
The echoes of the night trucks
bouncing off the cobblestones
on Canal Street play on the
silences in my bones. Playing
games with the red and green
light on the corner of Mott and
Canal, we find an excuse to run—
we who know that those who are
brave cross Mott Street on a
diagonal.
There is a group of Chinese-American men who think of
themselves as Chinese warriors. They are beautiful
anachronisms. They study the martial arts, practice
calligraphy, consult the I Ching and go to sword flicks to
blow their minds.
We use newspaper for a
tablecloth. And when I
want to make my mother
sad I tell her that I'm
going to cook American
food when I get older.
Frances Chung